Topics
Yohei Sasakawa Awarded Gandhi Peace Prize
Recognized for work to eliminate leprosy and associated discrimination
Feb 24, 2019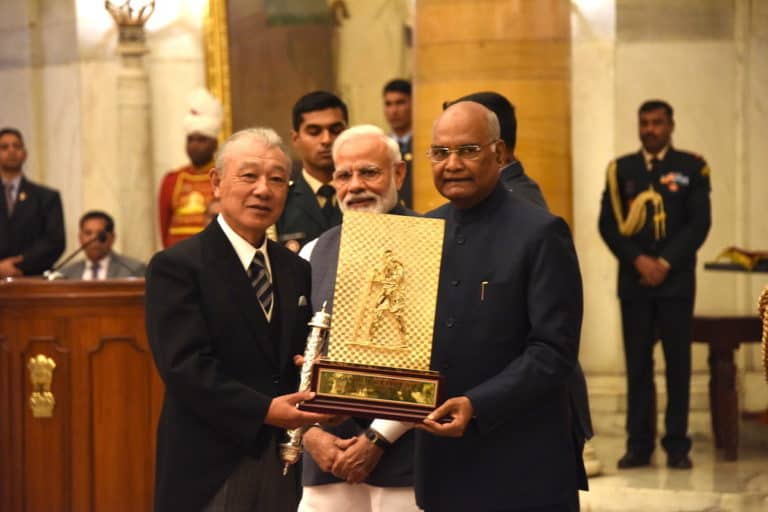 Yohei Sasakawa, WHO Goodwill Ambassador for Leprosy Elimination and chairman of The Nippon Foundation was notified by the Government of India was awarded the Gandhi Peace Prize 2018 on February 2019.
The Gandhi Peace Prize was established in 1995 by the Government of India to commemorate the 125th anniversary of Mahatma Gandhi's birth.
The panel of judges for the current award included Indian Prime Minister Narendra Modi, the Chief Justice of India, the Speaker of the lower house of Parliament, and the leader of the Indian National Congress party in the lower house.
The award includes a prize of 10 million rupees (approximately 15 million yen, or US$140,000), and is one of the world's most prestigious peace prizes, with past non-Indian recipients including Nobel Peace Prize laureates Nelson Mandela and Archbishop Desmond Tutu of South Africa, and Grameen Bank of Bangladesh.
The award was given in recognition of Mr. Sasakawa's activities including his work toward the global elimination of leprosy as WHO Goodwill Ambassador for Leprosy Elimination.
On learning of this recognition, Mr. Sasakawa noted, "I have been informed that I am to receive the Gandhi Peace Prize in this memorable year marking the 150th birth anniversary of Mahatma Gandhi. I thank the Government of India for recognizing the contribution of all who have been working together to eliminate leprosy and improve the lives of persons affected by the disease, and I humbly accept this prestigious award on their behalf. I would like to express my sincere gratitude to Prime Minister Narendra Modi, the Government of India and all who have worked with me for this cause."