"Special Interview"


Valdenora da Cruz Rodrigues

Movement of Reintegration of Persons Afflicted by Hansen's disease (MORHAN)

Brazil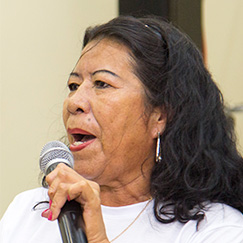 Yohei Sasakawa had an interview with Ms. Valdenora Rodriguez, a member of MORHAN (Reintegration of People Affected by Leprosy).
From 1926 to 1976, Brazil imposed a policy of segregating children from their parents affected by leprosy in order to prevent household transmission. Today, there is a movement to reunite the segregated parents and children through DNA analysis, but there are not many successful stories.
Ms. Rodriguez is one person who has suffered under this policy of parent-child segregation. She has had to overcome many hardships to this day. Now she is finally able to have and raise her own child that she had so longed for.
Staff Credits
General Director:Naohiro Asano / Director:Kie Matsuyama / Producer:Naohiro Asano,Tomoko Tomita /
General Producer:Naoto Tanaka / Associate Producer:Tamaki Tsuda / Assistant Director:Yuta Watanabe /
Cinematographer:Toru Nishi / Video Engineer:Haruhiko Iwasa / Sound Designer:Kozo Hosomi /
Online Editor:Shigeru Yoneyama / Sound Engineer:Nobuyuki Shimizu / Location Coordinator:Paola Bruno /
Script Advisor:Kanae Hirano,Yuka Nukina
Film Production:TV MAN UNION,INC.
Interviewed in June 2016