"Special Interview"


Vagavathali Narsappa

President of Association of People Affected by Leprosy (APAL)

Brazil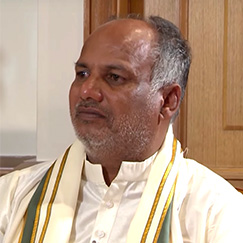 Mr. Narsappa is President of APAL, an organization that aims to improve the living conditions of people affected by leprosy and their families and to regain their social rights.
Since Mr.Narsappa was diagnosed with leprosy at the age of 9 he has lived a life of dire poverty and strong discrimination. Today, as representative of an organization of approximately 850 colonies he meets with leaders of political and business circles of India to bring to their attention the plight of people affected by leprosy and to appeal for better social and economic living standards.
We are able to hear from Mr. Narsappa, a remarkable leader who speaks without hiding his past and who is here to bring change to the world.
Staff Credits
General Director:Naohiro Asano / Director:Kie Matsuyama / Producer:Naohiro Asano,Tomoko Tomita /
General Producer:Naoto Tanaka / Associate Producer:Tamaki Tsuda / Assistant Director:Yuta Watanabe /
Cinematographer:Toru Nishi / Video Engineer:Haruhiko Iwasa / Sound Designer:Kozo Hosomi /
Online Editor:Shigeru Yoneyama / Sound Engineer:Nobuyuki Shimizu / Location Coordinator:Hiromi Kimura
Film Production:TV MAN UNION,INC.
Interviewed in June 2015