"Special Interview"


P.K. Gopal

The first president of the National Forum

India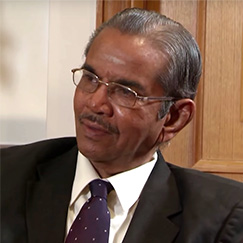 Dr. Gopal was diagnosed with leprosy at the age of 12. He was supported by his family during his treatment and after completely being cured started his activities to fight against discrimination. He became the first president of the National Forum. He was awarded the People's Honor Award, the Padma Shri Awards for his long years of dedicated work. Dr. Gopal, whose life has had "ups and downs", tells us about his story and his future vision.
Staff Credits
General Director:Naohiro Asano / Director:Kie Matsuyama / Producer:Naohiro Asano,Tomoko Tomita /
General Producer:Naoto Tanaka / Associate Producer:Tamaki Tsuda / Assistant Director:Yuta Watanabe /
Cinematographer:Toru Nishi / Video Engineer:Haruhiko Iwasa / Sound Designer:Kozo Hosomi /
Online Editor:Shigeru Yoneyama / Sound Engineer:Nobuyuki Shimizu / Location Coordinator:Hiromi Kimura
Film Production:TV MAN UNION,INC.
Interviewed in June 2015