"Special Interview"


Mr. Paulus Manek

Representative of PerMaTa

Indonesia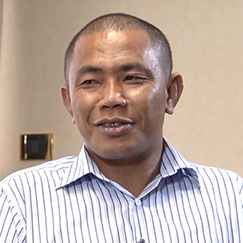 Yohei Sasakawa had an interview with Mr. Manek, the representative of PerMaTa, an Indonesian organization of people affected by leprosy.
Leprosy programs are not reaching the very peripheral regions of the archipelago of Indonesia, which comprises 17,000 islands. There is an absolute shortage of doctors and nurses and the diagnosis and treatment of patients are delayed. In addition, correct knowledge about leprosy is not widespread in Indonesia, and people affected by leprosy conceal their condition for fear of discrimination.
Mr. Manek is dedicated to educating and raising awareness of leprosy in order to abolish discrimination and prejudice.
He endures unimaginable difficulties and makes great effort in his work as he continues to fight against ignorance.
Staff Credits
General Director:Naohiro Asano / Director:Kie Matsuyama / Producer:Naohiro Asano,Tomoko Tomita /
General Producer:Naoto Tanaka / Associate Producer:Tamaki Tsuda / Assistant Director:Yuta Watanabe /
Cinematographer:Toru Nishi / Video Engineer:Haruhiko Iwasa / Sound Designer:Kozo Hosomi /
Online Editor:Shigeru Yoneyama / Sound Engineer:Nobuyuki Shimizu / Location Coordinator:Paola Bruno /
Script Advisor:Kanae Hirano,Yuka Nukina
Film Production:TV MAN UNION,INC.
Interviewed in June 2016