"Special Interview"


Kofi Nyarko

President of IDEA, Ghana Branch

Ghana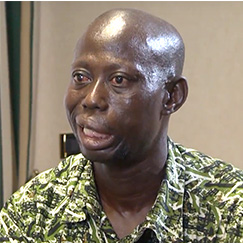 Yohei Sasakawa had an interview with Mr. Kofi Nyarko, the President of international network of people affected by leprosy IDEA, Ghana Branch.
Discrimination remains deeply rooted in Ghana and people affected by leprosy who have been ostracized from society live quietly together. Mr. Nyarko, as a person who has experienced and suffered such discrimination, encourages and helps those like him to return to their respective hometowns.
"When I change, the world will change," is the motto of Mr. Nyarko, a leader among people affected by leprosy. Yet he himself went through a long and hard struggle before coming to this strong conviction.
Staff Credits
General Director:Naohiro Asano / Director:Kie Matsuyama / Producer:Naohiro Asano,Tomoko Tomita /
General Producer:Naoto Tanaka / Associate Producer:Tamaki Tsuda / Assistant Director:Yuta Watanabe /
Cinematographer:Toru Nishi / Video Engineer:Haruhiko Iwasa / Sound Designer:Kozo Hosomi /
Online Editor:Shigeru Yoneyama / Sound Engineer:Nobuyuki Shimizu / Location Coordinator:Paola Bruno /
Script Advisor:Kanae Hirano,Yuka Nukina
Film Production:TV MAN UNION,INC.
Interviewed in June 2016