"Special Interview"


José Ramirez, Jr.

Department Director at MHMRA of Harris County
(Editor-in-Chief, The STAR)

U.S.A.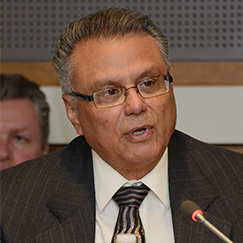 TMr. Jose P. Ramirez Jr. who spent 7 years since 1968 at a leprosarium in Carville which closed down in the late 1990s. The former residents of Carville are advancing in age and Mr. Ramirez has been acting to this day as the last "kataribe" (hereditary role of narrator) to hand down the history of leprosy. He is also the editor-in-chief of The Star, a magazine dedicated to raising awareness of leprosy through correct knowledge and advocacy work against leprosy stigma. Mr. Ramirez tells us of his bitter memories that are revived every time he speaks about leprosy as well as what he has found at the end of his despair.
Staff Credits
General Director : Naohiro Asano / Director : Kie Matsuyama / Producer : Naohiro Asano,Tomoko Tomita /
General Producer : Naoto Tanaka / Associate Producer : Tamaki Tsuda / Assistant Director : Yuta Watanabe /
Cinematographer : Toru Nishi / Video Engineer : Haruhiko Iwasa / Sound Designer : Kozo Hosomi /
Online Editor : Shigeru Yoneyama / Sound Engineer : Nobuyuki Shimizu / Location Coordinator : Hiromi Kimura
Film Production : TV MAN UNION,INC.
Interviewed in June 2016