A Dialogue with the Dalai Lama
Yohei Sasakawa
Oct 09, 2012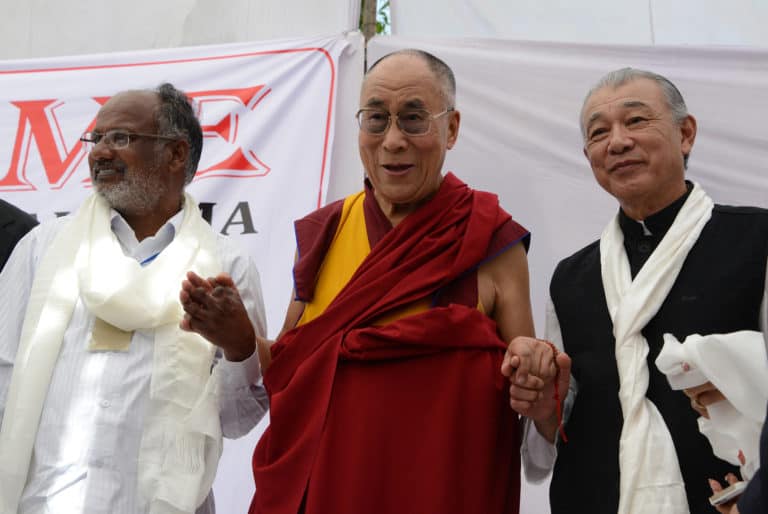 His Holiness the 14th Dalai Lama shares a message that all of us should heed.
In late August 2012, I traveled to northern India for a meeting with His Holiness the Dalai Lama in Dharamsala, India. He has been a strong supporter of my annual Global Appeal to End Stigma and Discrimination against People Affected by Leprosy, endorsing it in 2006 and again in 2009. I had met the Dalai Lama on several occasions before, and once again, we had much to share.
In our meeting, we talked about the important role of religious leaders in speaking out to make it known to their followers that people affected by leprosy pose no threat and there is no reason for them to be isolated. The Dalai Lama concurred that stigma and isolation are "totally wrong." "If society rejects a person affected by leprosy, then society is losing one member of society."
During our time together, the Dalai Lama graciously recorded a video message in which he made it clear that we are all one family: "Seven billion human beings are essentially brothers and sisters. We are born the same way and we die the same way. Everyone wants a happy life and has the right to achieve a happy life." His Holiness reminded us that we are "social animals" and we need one another.
We also discussed how discrimination stands in the way of love and compassion for our fellow human beings. The Dalai Lama noted that while people are always talking about love and compassion, these sentiments are often betrayed by discrimination. Apart from religion, that is, as members of the seven- billion strong human community, we must reach out to every other human being. "At a human level, it is, I think, a really important practice of secular ethics," he added.
He makes it a point to visit colonies, some that are self-settled, to condemn discrimination and instill hope. With the Dalai Lama's support, the Sasakawa-India Leprosy Foundation also began providing scholarships to children from leprosy colonies in India, for professional courses of a maximum four-year duration. The Dalai Lama's message is a powerful one that continues to touch many people and open our eyes. I was once again inspired by our conversation and determined to work even harder to bring about a world without leprosy.
Yohei Sasakawa
WHO Goodwill Ambassador for Leprosy Elimination
Chairman, The Nippon Foundation